Products and Sales
Here at Cable Fork Trucks as well as providing our customers with brand new state of the art equipment we also sell refurbished machines.
Hand Pallet trucks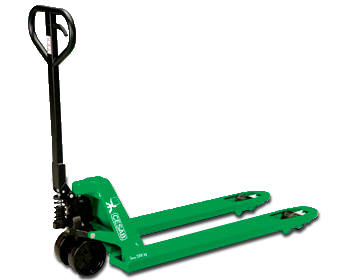 To move a load from one point to another with an easy manual hydraulic pump and lever control makes this an ideal machine to facilitate different size pallets or stillages. Various fork frame sizes are available along with different wheel compounds to suit all types of floor surfaces
Powered Pallet Trucks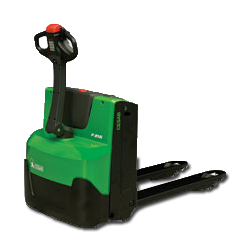 Pedestrian (walk behind) or ride on for the more demanding movement of pallets or stillages across the floor. 24volt AC traction and hydraulic control lifting up to 2400kg. Various fork frame sizes and wheel compounds to suit most applications.
Powered Pedestrian Stackers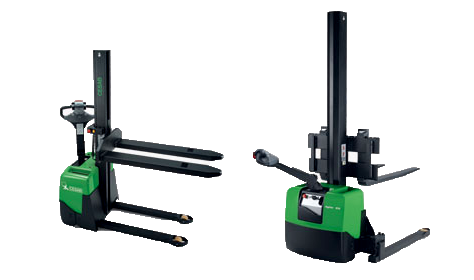 Pedestrian (walk behind) or ride on machines for stacking in tight places. With full 24 volt AC traction and hydraulic control with lifting capacities up to 1350kg and lift heights up to 4.5 mts. There are two types of stackers available, one has fixed wrap over forks and the other has straddle legs with adjustable forks.
Reach Trucks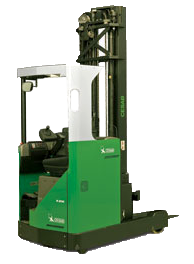 These machines with lifting capacities ranging from 1350kg to 2500kg with various lift heights of 3 to 10.8 mts facilitate low and high bay racking systems. 48 volt AC electronic traction and hydraulic control, varying battery sizes to cater for medium and high volume operations
Electric Counter Balance Form Lifts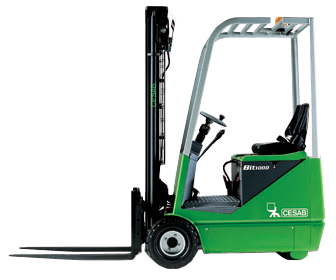 Tight on space item - the 3 wheeled machine is the answer. Lifting capacities up to 1.8 ton, height up to 6 mts. Electronic traction control with finger tip control for all hydraulic functions.
Gas/Diesel Counter Balance Fork Lifts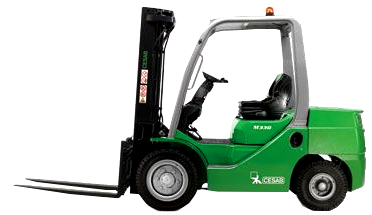 The 4 wheeled counterbalance machines are the workhorse of the forklift trucks. They are available in electric, lpg or diesel. Lifting capacities range from 1.5 ton to 5 ton with varying lift heights up to 6mts.
Sales and Hire
We offer a full range of new equipment to suit all budgets.
We are a main dealer of Cesab material handling,supplying brand new gas diesel and electric forklift trucks ranging from 1 ton capacity upwards at very competitive prices. For the last 20 years we have specialised in reconditioning Toyota equipment of all types. We have 40 years experience in providing warehousing equipment including powered pallet trucks, stackers and high bay reach trucks.
We run a large rental fleet made up of new and refurbished/reconditioned CESAB and Toyota machines. We can offer casual hire and short/long term rental all with full maintenance and breakdown cover at competitive rates with no hidden charges.